In a felicitation message to biography, "Abhedananda Gurudevan" by Sri Kumaran Thampy, the  great Malayalam  scholar Sri. Shooranaat Kunjan Pillai expressed like this:
"Upon instituting an Ashramam near Padmatheertham inside Fort, Trivandrum, the city witnessed Abhedananda Jyotis. An ashramam- (which is otherwise to be set in Himalayas or interior mountain ranges)-getting prominence in the midst of a city, generated surprise and respect. Penance and subsequent mental purity and glory are not meant for mountains or caves. Rather, it is for mankind. An apt location for such an endeavor is at the heart of city. Sri Abhedanada who decided to set up an Ashramam in the heart of city and the ruler who donated the land for it; both did a great contribution to world".
GENESIS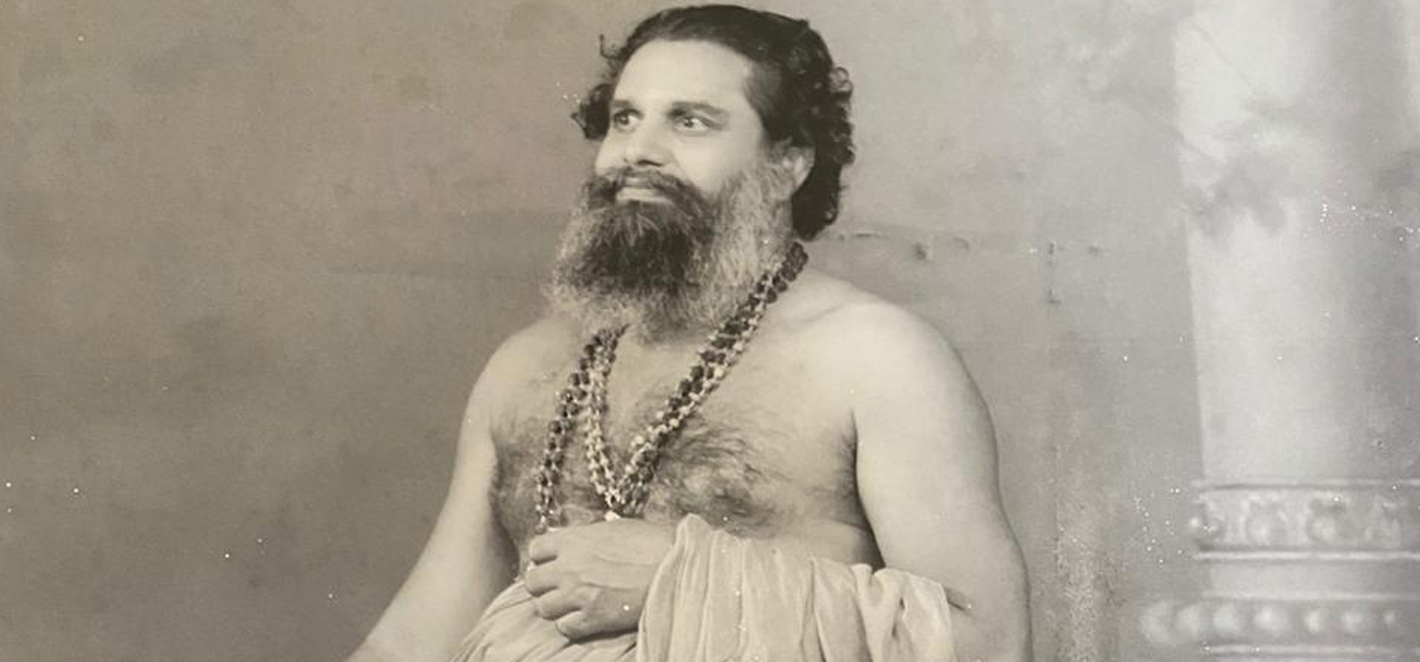 Swami Abhedananda returned to his native home land in 1945. He mingled with the masses and actively participated in social and religious reforms through various cultural activities. Gurudev had mastery over performing Arts like: Music and Theatre. He was a powerful orator. He was an entertaining story teller. He was an excellent cook and above all a great scholar who could explain the toughest spiritual maxim with simplicity and humour. His magnetic personality and childlike innocence attracted many spiritual aspirants who requested Gurudev to build an Ashram. A true parivrajaka with no desire to possess, attach or get bounded, He rejected the idea out rightly. However he had to finally concede to popular demand. With no will of his own, Gurudev accepted this demand as God's will.
In 1946 June, Gurudev established an Ashram at Arayoor in the name of his spiritual mentor, Sri Chattambi Swamigal. A temple was consecrated and Gurudev installed a 'MIRROR 'on April 16th 1948, as a deity, exhorting the most subtle truth that what you are seeking is you yourself. Tat Twam Asi
Thus began THE CHATTAMBI SWAMI SMARAKA ABHEDASHRAMOM at Arayoor, Kerala
In 1951 Gurudev with a handful of devotees organized The First Chaturmasyam (Four Months) AKANDA NAMA YAGYA at Arayoor . Akanda Nama japa Yagnam means uninterrupted chanting of Lord's name.

The Second Chathurmasya Akanda Nama japam was from July 1952 to November 1952 .The Third Akanda Nama Japam Yajnam started in July 1953 and continued for a period of 10 months.
These activities propelled everyone's interest in Namajapa- chanting the Lord's name.

1954 - ABHEDASHRAMAM AT TRIVANDRUM
During the wee hours through the heart of Trivandrum city, one could year loud melodious chanting of Mahamantra.
HARE RAMA HARE RAMA RAMA RAMA HARE HARE
HARE KRISHNA HARE KRISHNA KRISHNA KRISHNA HARE HARE
The Lord's name rendered from the divine throat of Gurudev could cast a magic spell that people jumped up enthusiastically, from the cosy comforts of their deepest slumber to join the morning Bheri, led by Gurudev which till then was a novel experience.
The same year a Chathurmasya( means four Months) Akanda Nama japam in full glory and splendor was organized at Thycaud Shasta Temple. There was an unexplainable spiritual excitement in the air, as the yajnam fired interest and devotion towards Namajapam.
Devotees demanded a permanent place for Namajapam. A land was made available for this purpose inside East Fort, the busiest commercial area of Trivandrum City. In 1955 Gurudev established ABHEDASHRAMOM MAHAMANTRALAYA as a spiritual and cultural abode; the doors wide open to one and all. The Ashram's guiding principle till date is that Abheda Bhava. A+ Bheda; means without any Bhed (means without any discrimination).
THE AKANDA DEEPAM AND AKANDA NAMAJAPAM
24th February 1955- A Jyothi (Blazing flame) from the Samadhi Temple of Sri Chattambi Swamigal at Panmana, Kollam; was brought to Trivandrum Abhedashramom. With this sacred fire, Gurudev lighted seven wicks, representing seven directions of a 6 feet tall holy lamp. The flame is maintained without extinguishing even for a split second to date, with utmost care. This is the divine Akanda Deepam of Abhedashramam.
Nama Japam – The continuous and constant repetition of the Lord's name is the best antidote to all worldly problems. The vibration it generates purifies the entire atmosphere. Gurudev always hailed Namajapam as the simplest, yet the most powerful spiritual practice.
On that auspicious day in 1955, holding a Tanpura, Gurudev, sparked off the phenomenal; AKANDA NAMA JAPAM at ABHEDASHRAMOM by chanting The Shodakshara Mahamantra (16 worded Mantra) from Kalisantharanopanishad in His amazing soul stirring voice.
He conceptualized the Akanda Nama Japam around the Akanda Deepam for universal peace and happiness.
It calls for unquestioning faith, devotion, love and surrender to the supreme Lord, attained through this simplest and easiest method of Namajapam.
Around the Akanda Deepam, circumnavigate a devotee holding a Tanpura chanting Mahamantra, twenty-four- seven . The person is representative of Narada Muni, the celestial sage, who is the epitome of Bhakti
This Akanda Deepam and Akanda Namajapam is the Heart of Abhedashramom- the Eternal Everlasting Undying Light which illuminates and transmutes into supernal splendor. Ceaseless remembrance of the lord is the easiest technique to discover the One Real Divine dimension within each one of us
The spiritual power emanating from this continuous, uninterrupted chanting of Mahamantra around the Akanda Deepam for the last 67 years, without a break is experienced by anyone who steps inside the Ashramom premises.
ABHEDASRAMAM MAHAMANTRALAYAM
The power of Namajapam is like invisible armour, to blissfully wade through any problems or anxieties in life without any complaints or remorse.
Only a true Bhakta can willingly accept whatever destiny holds for him / her as Bhagwan's Prasad.
In 1965, Gurudev initiated Likhita Namajapa, a simple sadhana of writing Mahamantra on a white paper.
Devotees happily and wholeheartedly took this Likhita yajna, that in a short period of time about four crores of Lord's Name were written and brought to ashram in bundles and stacks.
Gurudev then, installed the Nama Prathista by laying these bundles of Nama inside a specially build cellar, opposite the main Balakrishna Temple inside Ashramom.
Thus Abhedashramom came to be rightly known as Abhedashramom Mahamantralayam
RADHA DEVI PRATHISTA AT TRIVANDRUM ABHEDASRAMAM
Gurudev installed a life size, marble shrine of Sri Radha Devi, on a Mandapam constructed above the Namaprathishta, facing the main deity Balakrishna .This is the only destination in South India, where one would find a temple dedicated to Sri Radha Rani.
Visitors are spell bound seeing the beautiful shrine of Sri Radha Devi, imbued with elegance and beauty draped in traditional sari and bedecked with flowers and ornaments.
The whole space is enveloped with serenity and purity of the divine love of Sri Radha.
EXPANSION AND DEVELOPMENT
ABHEDASHRAMAM PARAMA BHATTARAKA CULTURAL DEVELOPMENT SOCIETY (APBCD)
In addition to the temple complex within the ashramam premises, Gurudev insisted a sort of community participation process, to develop this into a true Ashramom- a cooperative spiritual organization. In 1970 Gurudev founded APBCD for fostering Art and cultural activities within the framework of Ashramam ethos. Soon Ashramam developed into:
A peaceful abode to chant, spread and glorify Lord's name,

A place where everyone could sit together and pray irrespective of caste ,creed, rich or poor

A cultural centre to revive Music, temple Arts and Culture

And a melting pot of various spiritual masters, to spread the message of love and devotion.
Visitors are also attracted to a life size statue of Chattambi Swamigal , sculpted to perfection in a sitting posture.
A small auditorium with a seating capacity of about 500 was constructed in 1970 where Bhajans, Discourses and Cultural programs take place on a regular basis.
Ashramom also has lodging facilities for spiritual aspirants to stay and experience the aura of Bhakti and Prem , vibrant in every nook and corner of the Ashramom.
There is a full-fledged kitchen and refectory where satvic food is served three times a day.